Our Horses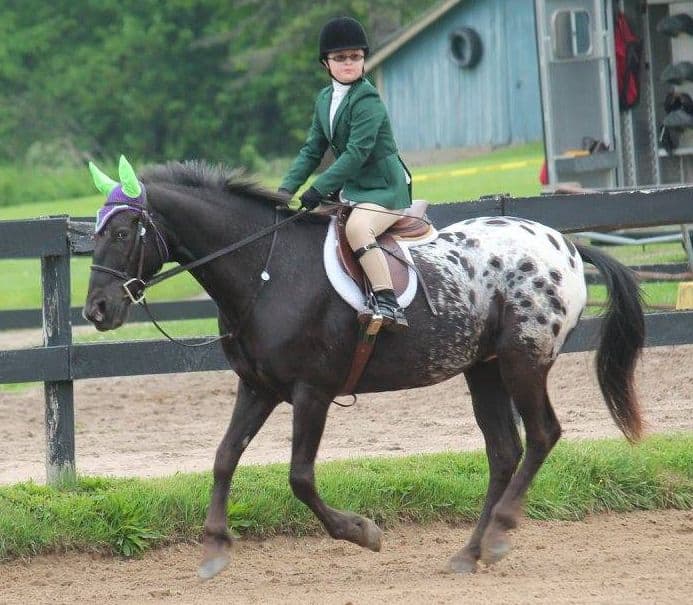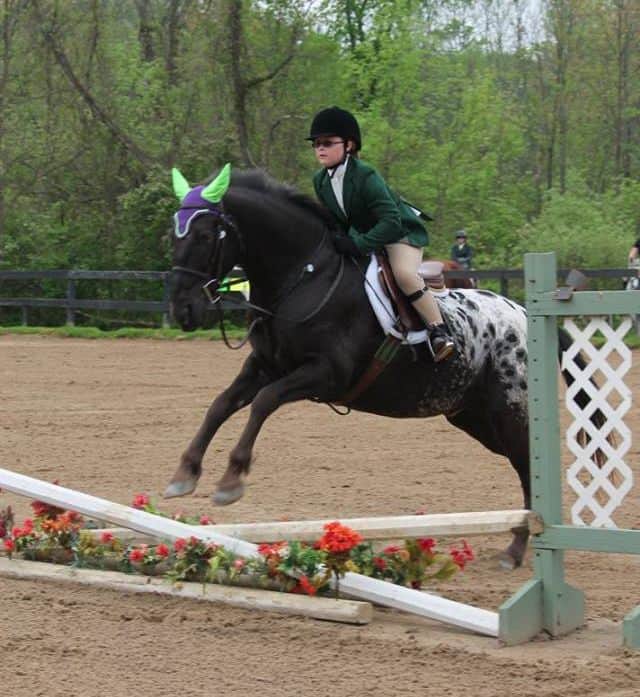 "NO PONIES!" was the resolute answer. (A surprise, because the year before she had wanted ponies….I guess I got her enough…) Then the list went on.
"Needs to go walk, trot, beginner canter. Must be well broke. Big bodied. Nothing smaller than 15.0-15.1. No young horses. No show prospects (she always says that). IT went on and on. IT was quite a laundry list and I listed patiently, knowing that in my heart, I would be lucky if I found one of all those things in the horses that I would be offered. I nodded and got in my truck.
Chip hacksAs Shipshewana is an hour drive from camp and I prefer to not haul horses alone, I asked my good friend and backpacking partner, Craig if he would like to accompany me on my trip. Craig, always up for a new adventure, said, "Sure." After all, he had never been to a horse auction.
Chip had two teen age boys selling him at the sale. They seemed kind, and to genuinely love Chip, they just didn't seem to know much about horses. I would not have doubted if you had told me that Chip was selling to finance someone's first car. Sometimes those are the decisions you make. I talked to the boys for a bit of a while. Chip wasn't a bad size, and his temperament seemed good enough, but I could gather from my discussion that he had little to no training, the most he had seemed to be ridden was occasionally down the road. There was also a question about his age….the boys said 4, his teeth looked more like 8 or so. I asked the boys (knowing how boys like speed) whether Chip seemed to like to go real fast, or just kind of mosey along. I could feel the one searching my eyes and wondering which answer I would prefer. "He moves along well enough." A nice safe answer. Even though he seemed well put together and personable enough, I crossed Chip off my list. He was just too green.
Of course, when he came up for sale, I ended up buying him. It was more of a case of no one else wanting him and going cheap enough that he was worth taking a chance on.
Chip jumps
My first real impression of Chip was in the trailer, preparing to go home. We had parked where we could, next to a large semi-rig, loading 20 horses or so quickly and roughly by force. Sadly, it was very apparent that these horses were not going to a good end, and the men in charge were not in this business because they loved horses. They were making an awful ruckus. I had Craig helping, and though he means well, Craig will be the first to tell you that he is just a novice. After a bit of searching, we located the 4 horses I had bought and decided to bring out Chip and Gomer first. Gomer was frightened. You could tell he didn't have much experience in the big,wide world, and though he loaded well, the semi next to us with all the commotion and yelling was just too much for a young horse like him. I tied Gomer and Chip next to each other in the first section of the trailer. Chip dragged me over to Gomer and touched him affectionately on the neck. I told Craig later it was as if to say, "Hey guy, my name's Chip, what's yours?" "Don't worry about all that ruckus in the trailer next to us. I'm here now and I will take care of you." Craig laughed. We didn't know what the appaloosas name was, but Chip had just come to me while I was telling the story, and it stuck.
I have to admit, that summer camp was a bit of an eye opening experience for Chip. By the time the horses came home out of isolation, we only had a few weeks to work with them. Chip didn't really seem to care if anyone rode him, but then again, he didn't seem to care much about much. It seemed in that first summer that Chip wasn't sure what all this riding was about, and he really didn't care so much, as he thought the constant effort was annoying. Somewhere, middle of the summer, Chip decided that he didn't like riding instructors, and started attaching whatever human was standing on the ground in the middle of the ring (obviously the person responsible for his misery). By the end of summer, he was attaching ground people, charging away from the mounting block and flat out refusing to take any part of staying on the rail. After Chip's first summer finished, Chris and I discussed his future at Cedar Lodge. I had some extra time. I took Chip on as a project. That was how Chip entered Amy's Boot Camp.
That fall of 2006 is now more than 10 years ago. I won't lie and say that Chip and I didn't have a few heated discussions about his many dislikes, and there were several sessions that had us both in a lather, but in the end, Chip decided it was just way easier to walk/trot/canter and jump than to attack whoever he pleased. Chip has been a favorite at camp since 2007, and put in many years of good service. Now he spends most of his summers teaching beginner canter and cross rail kids the ropes. And the answer to "Does he have speed?" is emphatically "NO!" and that's just fine.
Our Horses