Our Horses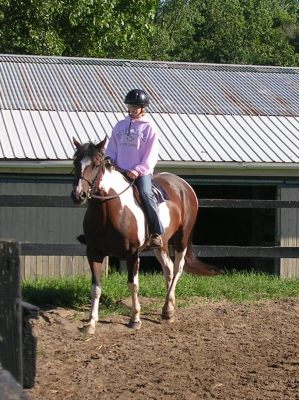 Mika didn't have a human for me to talk to. She stood in a stall, off from the others by herself. Tacked and bridled, tied to the wall with a note that said, "Family owned, ridden down trail by 8 year old son. Child safe" That was it. Not uncommon, that was all the information that I had to go on. I approached her noting the fact that she totally ignored my presence. No pinned ears and threatening, but no happy, "Hey what have you got for me, who are you?" look either. It was the typical dead look I usually received from auction horses. You can tell allot about how horses have been treated in their lives by how they react when you approach. I looked her over. Middle age. No lumps or bumps. I wiggled the saddle, touched her all over. Check out her legs and feet. I saw nothing obviously wrong with her. She was indeed the size and build that Chris had requested. I made a note of her number on my pad of paper. There was nothing spectacular about her when she came into the auction ring, but again, there was nothing wrong, either. She behaved nicely. The information given by the auctioneer was the same as what had been on the note pinned to her saddle. Her price was cheap and I didn't have any red flags going off, so I bought her.
Mika rode right out when Kali and Kendra got on her a couple weeks later. With in a couple weeks, they had her trained nicely to stay on the rail and walk, trot sufficiently for camp. Her canter wasn't bad and it was obvious that she would be able to be used in classes. We watched her closely during that first summer with us, but besides having an affliction with the left lead, Mika really did very little wrong. She was indeed one of our staff's favorite horses of the summer.
In the fall, Chris and I do allot of evaluating. One of the evaluations we do is of the horses that worked the previous summer. We work off of this list and staff recommendations, as well as our own observations to decide whether any horses should be sold off before winter and who needs further training. Chris takes the daily sheets that the staff check off as they assign horses for their riding classes during the summer. She counts up and tallies for the entire summer to decide which horses the staff used the most, and who they used the least. Imagine our surprise when Mika turned out to be the horse that worked the hardest for the entire summer of 2006! Quite an honor for a horse that had just come into the program.
As I think of Mika after she has been here for 8 months, my thoughts of her in June 2006 have not changed much. She has a bit more spark in her eye, and has certainly figured out what a carrot is. She has decide, after a few months of not caring what so ever for grain, that grain is probably the best thing on earth and dare not stand in her way as she gallops in from pasture for her daily ration! She is still solid and average in her job. She is safe for beginners, and mainly used in walk, trot and beginner canter classes. Watching her be ridden by a more advanced rider in the fall of 2006, I was impressed by the fact that she was a pretty good mover. Even her canter was cute. My thought at that time, is that Mika is the most untapped resource at Cedar Lodge. I think with a couple of months of additional training, that Mika could be an excellent beginner jump horse with a left lead to boot! All the question is, is whether we can put the time in during the spring of 2007 to get the job done. As it is, Mika has a job here that will keep her busy all summer, but who knows for the future? Some day we may be adding in Show Team pictures to Mika's profile! It's happened before!
Our Horses