General Camp Programs
Biking
In the past several years, biking has become a increasingly popular part of our program. Though in the past it was possible to take trips into town, along the country side and even for overnights at Lake Michigan, we feel that in recent years we can no longer guarantee the safety of our campers in these situations. To make up for this loss, we have bought a complete string of mountain and trail bikes. Our biking program is now a unique mix of three different types of biking programs: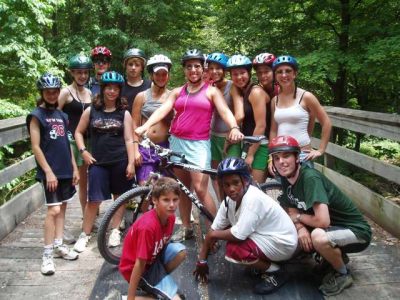 Trail Biking:
For those that want a more extensive biking experience, groups of campers are taken to Kal-Haven Bike trail, a local part of the Rails to Trails program which has a chapter 10 miles from camp. These trails are renovated railroad lines that offer a safe, medium grade path for biking and hiking. Our Kal-Haven trail runs from Kalamazoo to South Haven, a distance of over 40 miles. On an average of every other week, Cedar Lodge drops off a group of bikers somewhere on the trail (dependent on the age and ability of bikers) and picks up in scenic South Haven. Average trip length is 20 miles and takes approximately 2 hours. Average ability level is intermediate to advanced.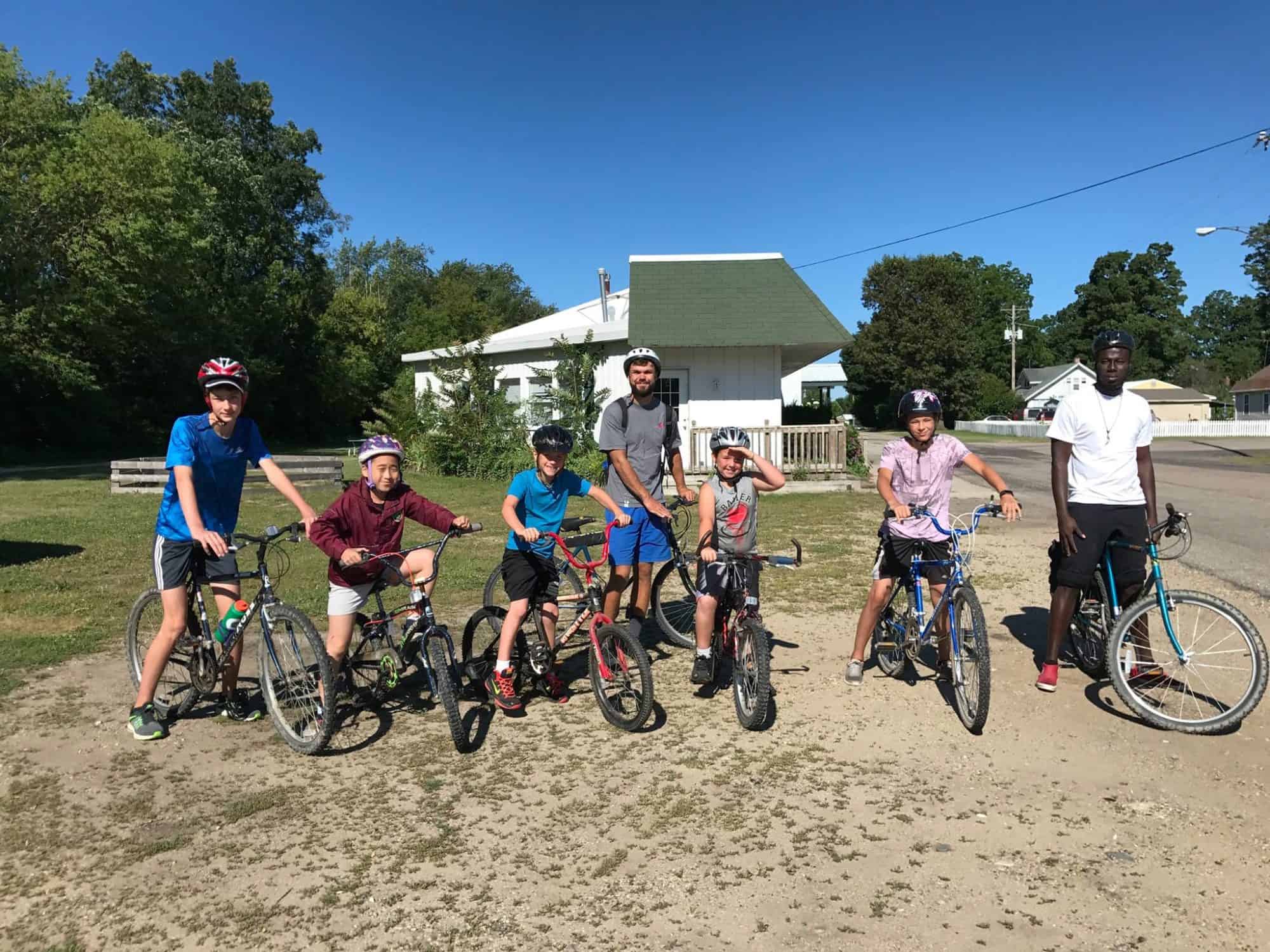 Mountain Biking:
In the past few years, mountain biking has become increasingly popular. To keep up with demand, Cedar Lodge has purchased 8-10 mountain bikes to be used in their program. Mountain Biking classes are held using the horse trails while riding classes are taking part and all horses are away from the area. This program is on a intermediate bike rider level. It is geared for those that have some experience mountain biking, or at least are a sufficient trail bike rider. It is meant to give a chance to experience the program, not to make advanced students. Safety is a high priority. Cedar Lodge mountain bikes are available for use with this program for campers that do not have their own. Additionally, Cedar Lodge hosts seveal triathlons during each summer. For just campers only and held on camp grounds, these swimming, running, and biking events are offered to everyone at camp and campers may chose to compete as individuals or in teams that split the events.
Recreational Biking:
Many campers bring their bikes to camp. There is a bike rack located by the Dining Hall and a biking instructor who is capable of doing minor repairs. In addition to the camper bikes, Cedar Lodge owns over 20 bikes in good working order and in all sizes that are available for biking programs. These bikes are reserved for bike programs only, and if a camper is planning on recreational bike riding, they should plan on bringing their own bike to camp.
Organized bike trips:
Either Mountain or Trail variety are offered 3-4 times a week and are usually broken into trips for slower bikers that may have to walk an occasional hill, and older, stronger bikers that want a quicker pace. All Bike Trips are accompanied by at least two staff members and bike helmets are mandatory.
Camp Directors note:
As bike helmets and proper foot gear are mandatory for all biking riding at Cedar Lodge, it is strongly suggested that if your camper plans to do a large amount of biking that they come with a properly fitting helmet. Cedar Lodge has a large supply of helmets in stock and will supply those that come to camp with out proper gear.
General Camp Programs