Riding Instructors
Resident year-round staff include Chris Cochrane and Amy Edwards, co-owners of Cedar Lodge Stables. Chris and Amy went into business together in 1980 and over the years have evolved into a full service horse facility. Both come to the table with a variety of unique and specialized skills. Some skills are similar, some are unique to the individual. Their ability to specialize in different areas, has enabled Chris and Amy to hold a strong foundation in all areas of their stable operation, while assuring the ability to support each other if needed.
Chris and Amy believe that good school horses are a must to any good teaching facility and keep a large school string on a year around bases. Most of the yearly care of the horses falls directly on them. In addition to the string of 30 school horses, Cedar Lodge Stables is a year around boarding stable and hosts a string of boarded horses.
If there should ever be a question about the care and handling of horses at Cedar Lodge, one has only to look at the 40 well fed happy individuals in Chris and Amy's care to realize that their fears can be put at rest.
Keeping with their determination to be as high a level of teaching facility as they can, Chris and Amy over see the summer camp riding program very closely. Between the two of them they cover all the highest level riding classes to assure that the level of teaching is kept up to their ideals.
About the Staff: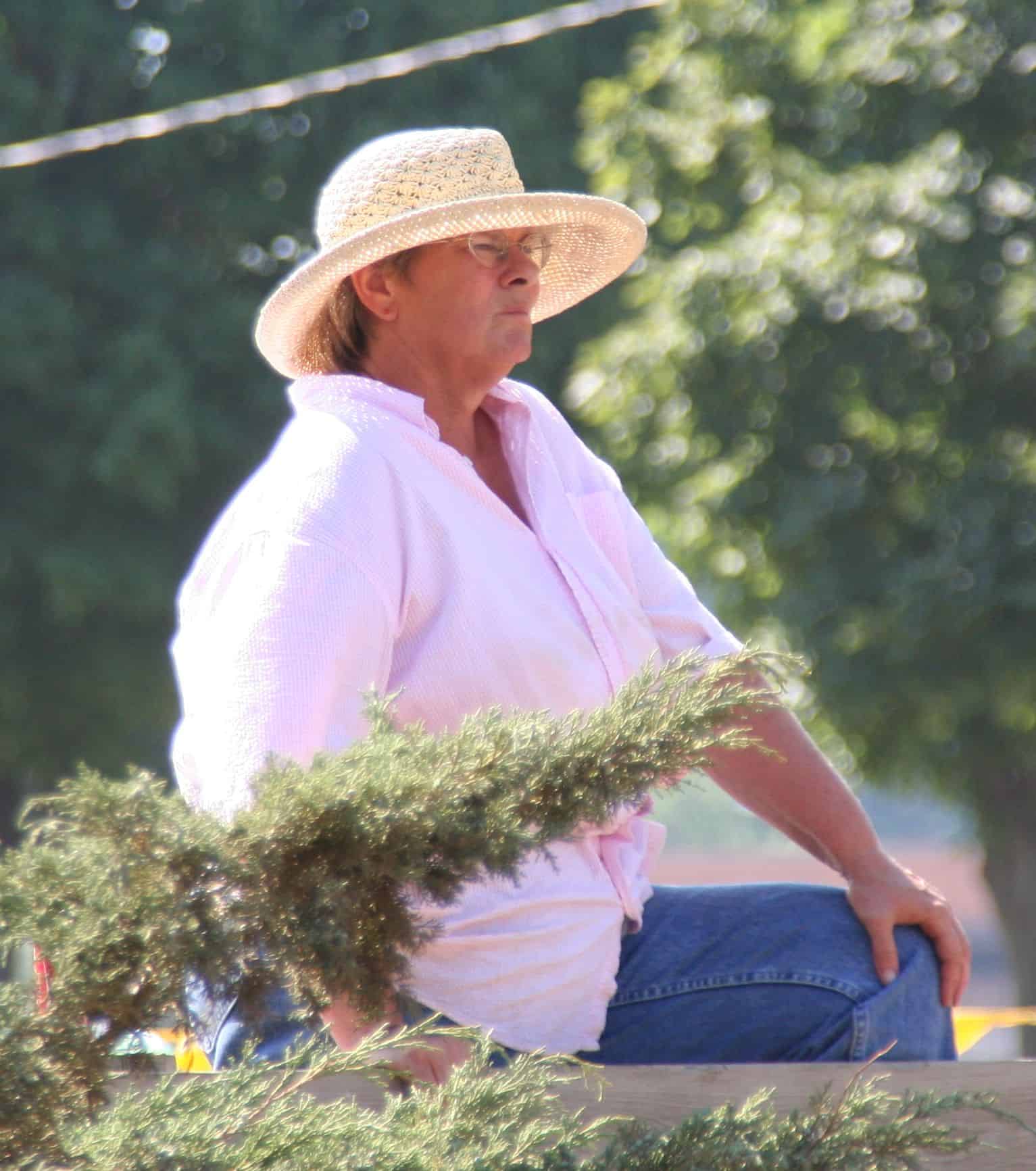 Chris Cochrane:
Chris started riding in Cleveland Ohio. Chris focused on dressage for 5 years before switching over to hunters\jumpers because, she says, "I wanted to jump". When Chris graduated from high school, she took a job at a large Hunter\Jumper barn in Seattle, Washington riding sale horses and teaching lessons. Chris stayed in Seattle for 4 years, but always felt there was something missing. Eventually, Chris moved back to Cleveland and enrolled at Ohio State University, majoring in animal science. It was in college that Chris met Henry and Velda Tatter, owners of Camp Watervliet for Girls. Chris worked for Henry and Velda for 2 summers as head riding instructor at their summer camp.
It was Chris's first experience with summer camps and she was hooked. When Camp Watervliet sold and consequently started being run by Eddy and Stella Edwards (See Camp History), Chris not only decided to continue with her summer job, she decided to realize a life long dream. Chris took a leave from college one year short of a degree in Animal Science Nutrition, and moved to Watervliet, MI to start her own stable.
The stable name was eventually changed to Cedar Lodge Stables to fit the camp, and after 4 years of running the business alone, Chris was joined by Amy, just fresh out of college. Over the years Chris has ridden, taught and judged. Chris holds a clinic instructor rating with CHA and has taught clinics in Michigan, Ohio, Pennsylvania, Florida, Texas, and Kentucky. Chris teaches most of the year around lessons at Cedar Lodge Stables, over sees the management of stables horses and acts as Show Team Director for the camp show team. Most weekends from May to Sept. are spent at horse shows, or recovering from horse shows. Weeks in between are spent teaching a large variety of students, planning the next showing experience or teaching at one of the Cedar Lodge riding weekends.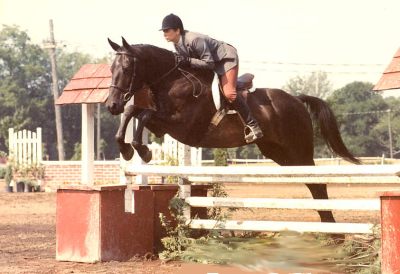 Amy Edwards:
Amy Edwards started riding what ever camp horses were owned by her parents at Lakeside Farm Camp. Though the camp always had horses, they were definitely not the specialty of the camp at the time. Most were ill mannered and poorly trained, with any knowledge they had being western training. Amy rode western for the first 8 years, showed locally once a year with the 4-H local fair and mainly riding for pleasure (commonly referred to as back yard riding) down trail the rest of the time. When time came to move from the much loved pony to a horse, Amy bought a back yard horse that she was told wheat better English than Western. After a few years on her own, and the realization that she was in over her head, Amy sought English riding lessons from a woman that had started a stable at another camp facility run by her parents. That was the start of Chris and Amy's relationship.
Amy soon realized that English was the only type of riding she was interested in. Amy's time with Chris led to the purchase of a young 3 year old that became Amy's first training experience (with Chris's help) and the start of a showing career that would never end. When Amy graduated from High School, she went on to Lake Erie College in Painsville, Ohio majoring in Equestrian Studies and Social Work, but soon Amy was back home. The schooling that Amy wanted she didn't feel she could find at college. What Amy really wanted to do was ride.
Amy came home and started working with Chris in the stable. Besides a bit of teaching, this allowed Amy to ride many of the camp horses, and eventually the level of camp horse and the forte of the camp started to change to more of a riding expertise.
In 1984 Chris and Amy moved the stable from Watervliet to Lawrence to coincide with the move of the camp. After 10 years building the stable, Amy felt the need to gain more experience riding than what she was able to do at the stable. There followed several weeks working for Tim Wright in Detroit, a winter at a Hunter\Jumper Sale barn in South Carolina owned by Max Bonham, a winter at a Hunter\Jumper show barn in North Carolina owned by Dan Lenehan and 2 winters at thoroughbred race horse barns in North and South Carolina. When Amy finally came home, she came home to stay.
Over the last 30 years Amy has judged horse shows at many local barns in the area. Primarily Amy rides client horses and young prospects for the stable and teaches a small group of students whose horses she rides. She became a clinic instructor with CHA and taught clinics in Michigan, Ohio, Colorado, and Kentucky. In addition to doing the majority of the riding for the stable, Amy handles the facility management of the stable and the staffing for the maintenance and teaching staff.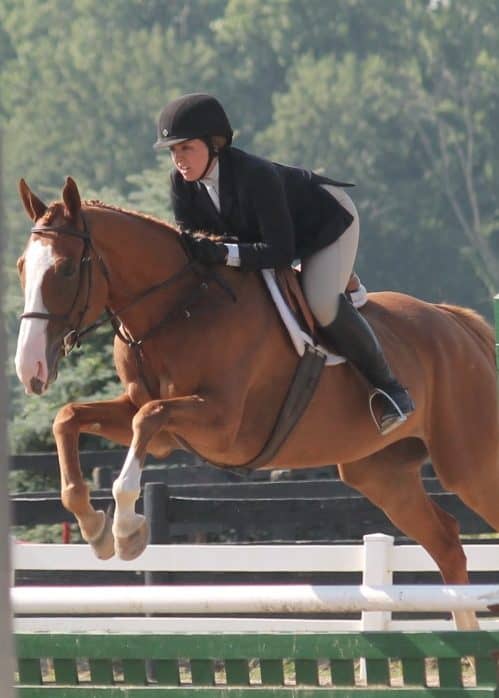 Ashley Butler:
Born and raised at Cedar Lodge, Ashley was taught how to ride at a very young age. Through her career she competed through the 3'3" Equitation and Hunters on the local circuit, finding the most interest in starting green horses. She graduated from Albion College in 2018 with a degree in Exercise Science and Education. While at Albion, she was on the Varsity Equestrian program for 2 years becoming captain her senior year. The following year after graduation, she went back to Albion to be the interim Varsity Hunt Seat Equestrian coach. That following winter she flew to Wellington Florida where she gained tons of knowledge and experience grooming and riding with former Irish Olympian Kevin Babington.
Ashley started her teaching career at age 18 on our summer camp staff and since then has continued to teach in our off season program. She has chosen to continue her career in horses and now manages the barn, trains and breaks young horses, and coaches the IEA and IHSA team members.
Other barn staff....
Reggie Salmond
Reggie Salmond has lived and worked at camp for over 25 years. Reggie is responsible for the day to day cleaning of the horse barn, and helps with daily feeding and turnout. Many will remember Reggie's smiling face as they enter the barn in the morning. Usually first in, and last out, Reggie enjoys the camaraderie of camp and will occasionally slip away from the barn to enjoy a trip to Lake Michigan with the group or a game of Basketball with the guys.