Guest House
Contact us for information on availability (269)674-8071 [email protected]
Our Guest rooms have become increasingly popular over the last several years. They have served as weekend retreats for those that need to get away, up graded housing for those enjoying our Riding Weekends, and overnight housing for camp families coming from far away. Will they fit a need for you?
Our guest housing is located on the second floor of the Directors House. It features comfortable accommodations for up to 4 persons in two private bedrooms, a sitting room,two bathrooms and kitchen. Both bedrooms are set up with two twin beds. Each room features views of the lake, pasture and camp without being right in the middle of all the activity.
Apartment rooms
A central sitting room is set up with couch, comfortable chairs, video recorder and Satellite TV. There are two private bathrooms, each with showers. The kitchen is set up with refrigerator, microwave and table for 4. Rooms are heated and have air conditioning during warm months.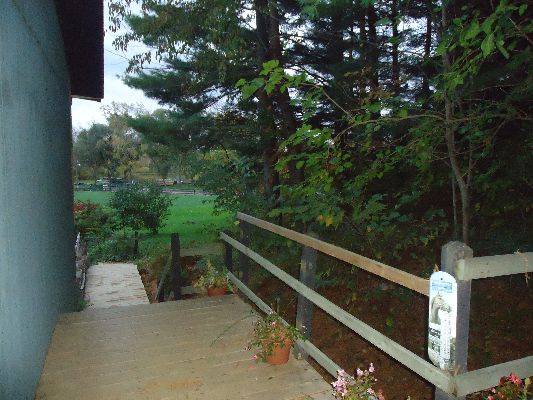 During the summer these rooms are reserved for visiting parents and friends of our Summer camp, but during our "off" season (Late Sept.to Mid May) these rooms are available for rental by groups or individuals. These rooms are ideal for families or individuals that feel that perhaps the Farm House option is a bit too rustic, or prefer more privacy and independence during their stay at Cedar Lodge. Apartment KitchenThey are perfect for a get away weekend at camp in the country with the horses (or without), or a time to investigate the nearby attractions.
Price:  75.00. Price is base on double occupancy per night per room.
Suggested area attractions:
Many vineyards
Lake Michigan (closes towns on Lake Michigan are South Haven and Saugatuk)
Rails to Trails
Breweries
Museums
Zoo
Fruit farms
Air Zoo
Apartment bedroomNature Center
The Train Barn
Theater
Historic buildings
Tillers International (old style farming, school and museum)