General Camp Programs
Gymnastics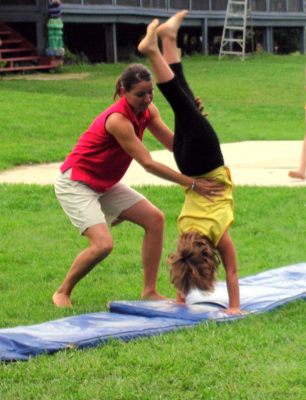 Gymnastics is one of the newer programs at Cedar Lodge. In the past, we have always attempted to have someone with a gymnastics background on staff to help out with our vaulting program. So much of vaulting requires both gymnastics and dance, that our poor riders were in need of some help! As it turns out, gymnastics became so popular, that they began having classes BEYOND the vaulting classes.
At Cedar Lodge we offer only work on floor mats, tumbling, floor exercises and interpretive dance classes. Campers with more advanced skills work on perfecting their movements and often work on routines. Beginners work on learning the correct and safe way to do the maneuvers for a performance or for fun.
Sunday Parent's day will often see demonstrations of skills by many levels of gymnasts, some as routines, and some as demonstrations. Sometimes gymnastics performances are combined with other skills like vaulting, dance, circus acts, and drama to give variation.
All gymnastics instructors hold first aid and CPR certification and are trained gymnasts themselves with experience both in performing and teaching the skills that they offering.
General Camp Programs