General Camp Programs
Music
A very important part of a child's growth is participating in some form of daily activity in the arts. Music, through spontaneous singing or playing an instrument is a way to achieve this. This may be done around the campfire to the strum of a guitar, in the shower at the top of your lungs, alone at a quiet time by yourself, after meals with the help of a piano, in a riding classes with a group of others, on a hike or on a hayride. When or where doesn't make any difference, we want Cedar Lodge to be alive with the sounds of young voice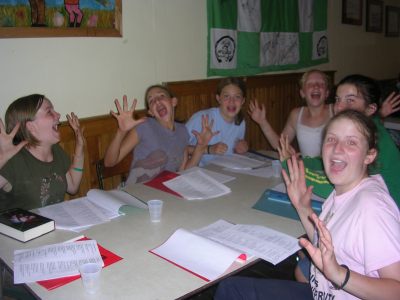 After Lunch Singing:
After Lunch every day, the song books are handed out and requests are taken on what everyone wants to sing. We are very lucky to have and experienced piano player, Sally Edwards to lead us in our struggles. The noon singing is usually up beat and often funny. The words are easy to follow…….even if you have never heard the sound before. Emphasis is put on participation. We don't care what you sing like, we want help!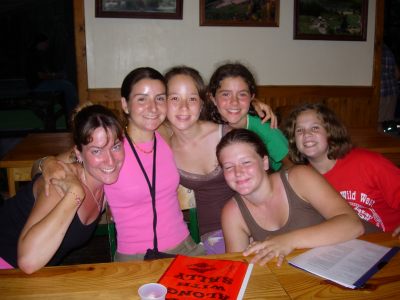 Broadway Tunes:
In the evenings, after program, while the campers are getting their snack, we are lucky enough to have Sally come over once again 2-3 evenings a week. A special song book, just for these times are handed out. This time is focused just on Broadway songs. The participation is strictly voluntary and the group may be 3 or 4, or 40. Selections include songs from West Side Story, Oliver, Jesus Christ Superstar, Wicked, Les Miserables, You're a Good Man Charlie Brown, Fame, Really Rosie, Fiddler on the Roof, Rent and more. This is a very special program and we feel especially lucky to have Sally lead us in the activity. Thanks Sally, we really appreciate you!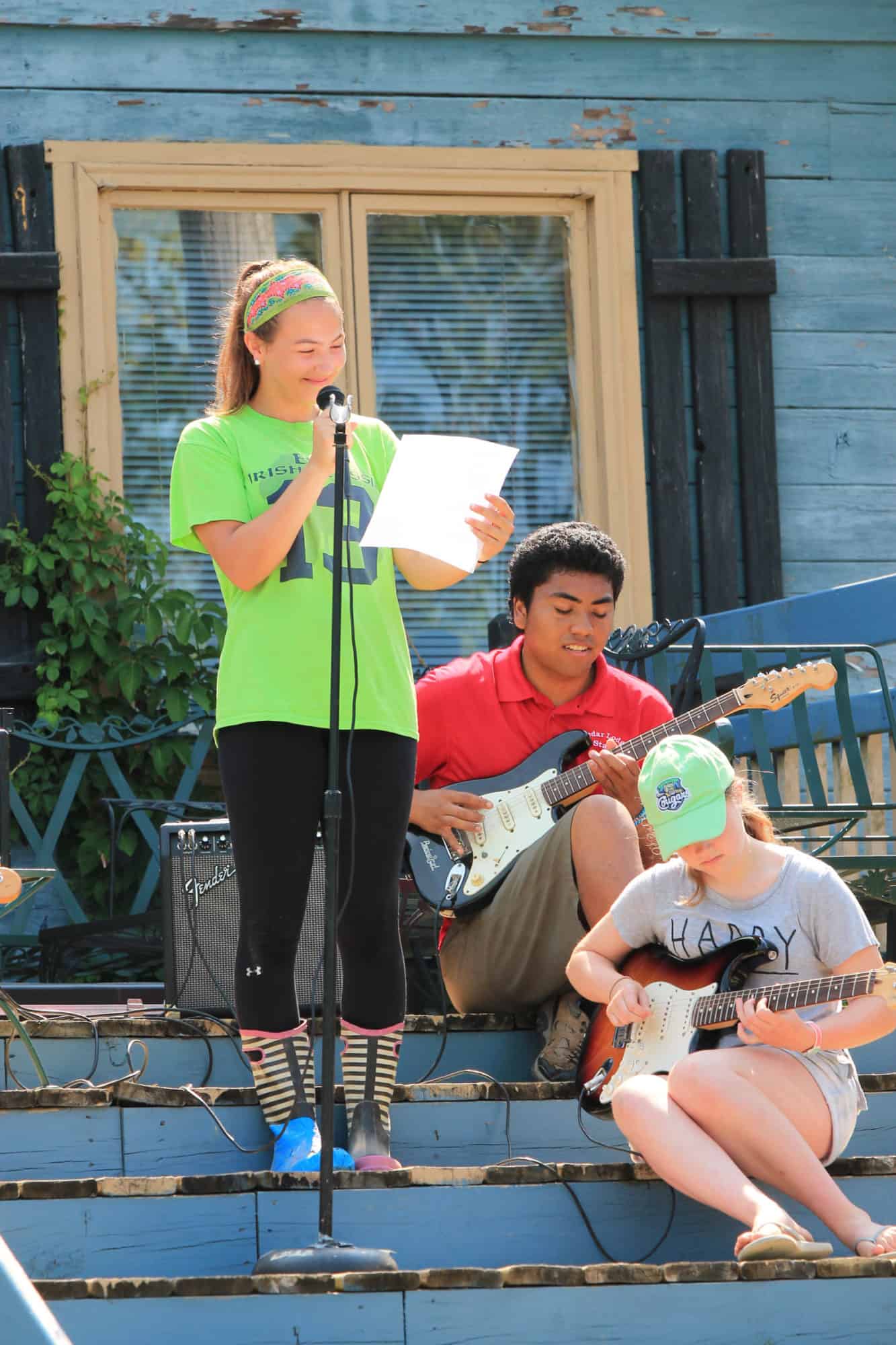 Rock Band:
New in 2006 Cedar Lodge decided to implement a rock and roll band to it's repetoir. A little known fact of Cedar Lodge is that Sally Edwards, Dave Edwards, and Gene Butler played in a top 40's rock band for many, many years playing key boards, drums and lead guitar, respectively.
The simple fact is, that many popular tunes from the 60's, 70's, 80's, 90's and 2000's are very simple to play and only require the knowledge of 3 or 4 chords. What if we were to take the talents we have and give campers an opportunity to play in their own rock band? Wow. The process is simple. Depending on the skills of the campers that decide to participate, the week can be comprised of learning the chords, words, back up and rhthym of one song, or as complicated as jamming in a group on a jazz composition that someone wrote.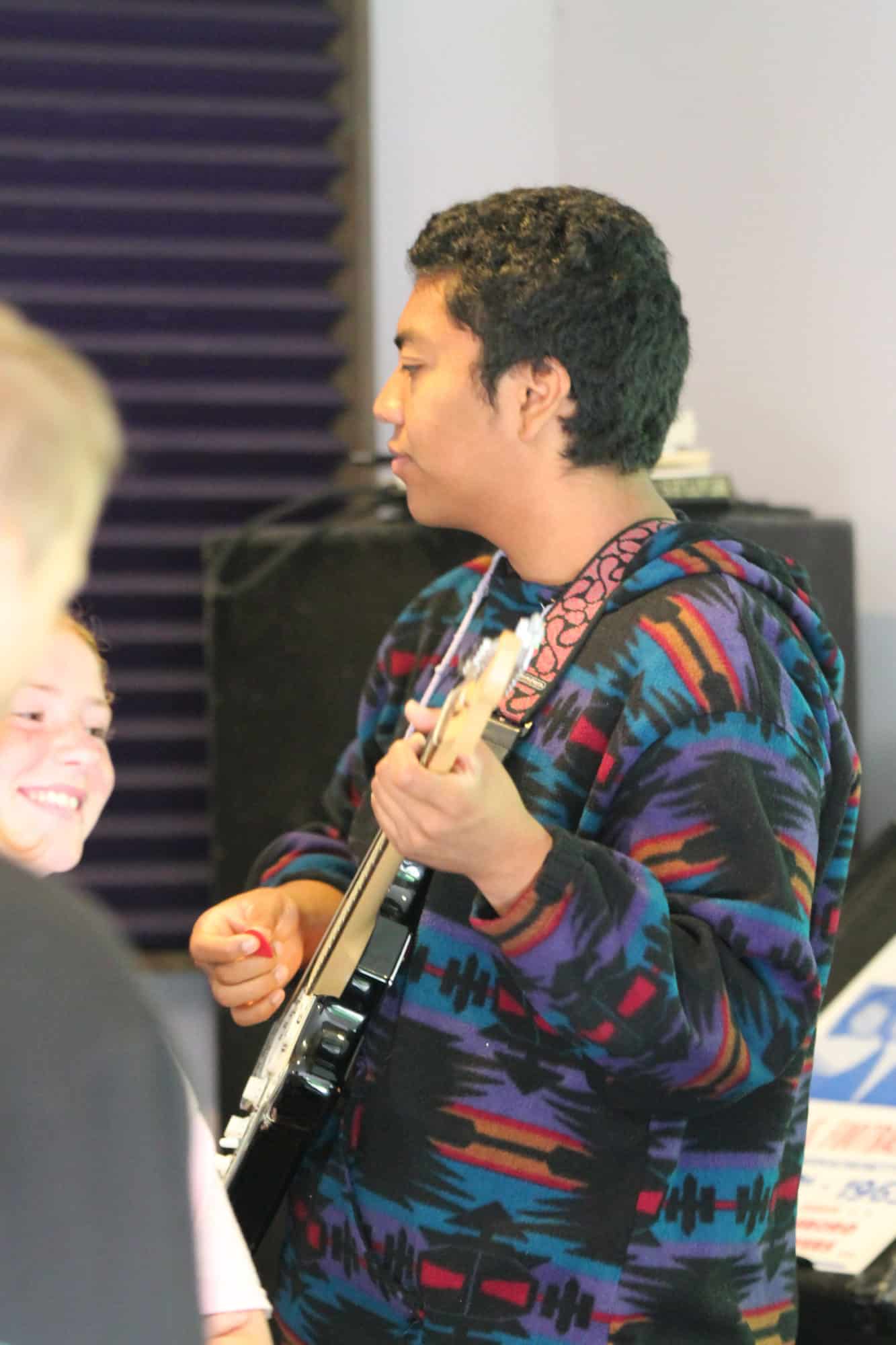 On Visitors Sunday
, the band of that week often choses to perform something they have been working on for the parents. Don't forget, this includes a lead singer, which may or may not also play an instrument. Like all Cedar Lodge programs, the stress is put on not just the best getting to participate, but allowing everyone to take a chance, and challenging each individual group to push themselves to the next level.
Camp Fires
Another popular singing place. Every Saturday at campfire we have a some games and a story, then we settle down to sing some songs. Some are old, old ballads. Some are more recent folk songs. Often campers will come up after the songs and say "hey, my parents sing those songs and have that record!" I guess we are "In" Most songs are quiet. After a while, we break into smaller groups. Those who choose go to find a stick and roast their marshmallows for s'moras. The others gather around for more singing before final taps and bed. During the day counselors who know the songs offer class time where new campers can come, sit under a tree and learn the camp songs. Or, if they prefer they may choose to teach us one of theirs!
Other Music:
Many campers bring their skills and instruments to camp. Often at rest hour the sound of a guitar, quiet singing or a recorder or flute can be heard through out the cabin units. Talent Shows are often graced by performances of singing and playing. Many Staff comes with musical backgrounds. Often classes are held in Piano or Guitar for interested participants during daily class time.
We do not profess to be experts, though music has always been a very important part of what we call "camp experiences" . Whether someone sings as they hike up to there cabin, burst into song during a shower, take their first guitar lesson at camp, gets a chance to try playing the drums for the first time, or comes back years later and talks about the silly songs they taught to their college room mates, we are proud of our music department at Cedar Lodge and we will keep it for all the years to come.
General Camp Programs