General Camp Programs
Sports
At Cedar Lodge we are big on fun. We try hard to offer all the traditional American Sports, and we find that often our International Staff will bring many sports that they play in their host country. This adds for a nice new variety to each summer. Traditional sports that we play each summer would include, but not be limited to: Volleyball\Basketball\Ping Pong\ Touch Football\ Soccer\ Frisbee\ Dodgeball\ Softball\ Croquet\ Tetherball\ Tennis\ Badminton\ Bumper Pool\ 4 Square\ Triad.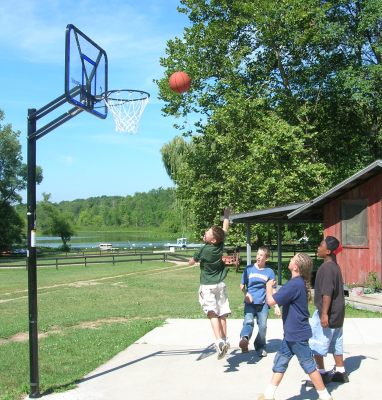 Especially popular for several years has been the international game of ringo, brought in by one of our international staff. Played at the beach on the volleyball court, this high action game keeps everyone busy and is requested often.
2006 saw the addition to Triathlons to the Cedar Lodge agenda. Split into three events and held entirely on Cedar Lodge property, campers that are interested can opt to compete as teams, or as individuals. Competitions start with a swim of half the lake, followed directly by 3 miles on mountain bikes on the trails, followed by a one mile run. The first Triathlon was so popular, campers requested we have 2 others during the same summer. As with all Cedar Lodge activities, good sportsmanship and everyone working to do their personal best was stressed. Campers were able to compare their times over several events, and everyone supported all competitors.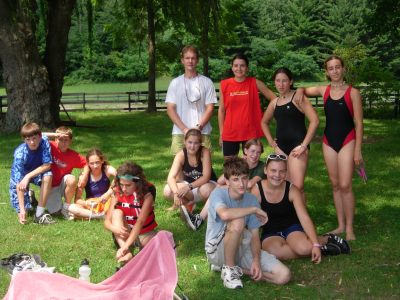 It is always a challenge to keep competitive sports enough a challenge for the older campers, while safe enough for the younger. To meet this challenge, we often split up the larger games into younger and older groups. While there is often going to be winner in a competition, what we stress with our games is fair play, technique, and sportsmanship. Many of our campers have had little or no chance to play organized sports because of other school functions, lack of time, or being afraid to try. What a shame. To never get a chance to play for fun on a sandy beach in a volley ball "game" or to hit that one grounder that brings 3 of your team home. We at Cedar Lodge pride ourselves in encouraging everyone to take a turn and a try. Our campers have a reputation of being supportive of the older jock that can hit the home run, or the first time batter that might have trouble hitting their first ball. Everyone gives a try, everyone comes out a winner.
In addition to the organized sports games, our sports staff offer small sized classes during the day activity to give campers that want to work or develop certain skills a chance in a one to one situation. These are particularly popular with those that have never tried, but maybe would like to out of a full team competition.
For those that want more competitive time than is possible on Cedar Lodge grounds, weekly trips into the Basketball and Tennis courts in the Lawrence township offers a chance for a real game on a larger court. Many older campers opt for this opportunity.
General Camp Programs