Our Horses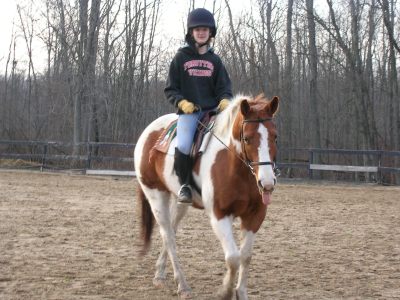 Spot
14.3 hand Quarter Horse/Paint
You guessed it. Auction barn. Spot was one of the horses that REALLY got me in trouble buying. I needed to get 4 or 5 camp horses so (again with the bright ideas) I decided to go to a two day sale: Day one was for grade Horses (no registration papers), and day two was for papered stock. Day one was not very fruitful. In fact, I don't think there were more than 10 horses that went through the sale. That isn't much when you have traveled 90 miles to get there, and you have to do the same thing the following day. I found nothing to bid on and was resigned to go home with nothing to show for my time when Spot came in the ring. He had everything I was looking for. Size, bone, build, conformation. As a bonus he was flashy and quiet. Everything except one thing. He was a yearling. I tried to be good, I really did, but I decided to throw caution to the wind and take a chance on the future. I bought him for 550.00. Not too bad, I thought. And ventured home to break the news to Chris.
Since it was a two day sale, I arranged for some people to take care of Spot that night at the auction barn and left him for the night. Sunday, I was back by noon. I checked in on Spot, who seemed to have weathered the night nicely, checked out the papered stock and took my spot next to the ring to await the horses. Half way through the sale a middle aged gentlemen came in with a searching look. I saw one of the auctioneers gesture at me and the man made his way through the crowd to where I sat. "I hear you bought a paint colt yesterday." He said. I nodded warily, keeping my main attention on the ring. You never can tell where a conversation at a horse auction will take you. The man reached into his pocket and retrieved a photo of a paint filly. She was beautiful. A bit taller than my paint. Elegant. "She's a 2 year old." The man said. "I have her for sale on the Internet for $2000.00. She comes with papers. I will trade you straight up for your colt." I had to ask the obvious. "Why?" I asked. He man shrugged, but never gave me a reason. I graciously declined. I don't know why, but I think maybe my mother's voice was echoing in my ear, "when something seems too good to be true, it usually is." The man persisted, but I stood fast. At the end of the day, I packed up my new yearling along with several other purchases (one was a Grey appendix quarter horse who would some day be known as Mattie) and went home.
Cute SpotWith in the first 24 hours of having Spot in my possession, I learned several things about him. One, he didn't lead; Neither coming nor going. Two, he didn't load. And Three, he didn't like being left alone, as he demonstrated by jumping out of his stall before I could get to the door as the herd was being let out for the night. Helplessly, I could do nothing but shrug and think, "Good knees. Too bad it will be 3 years before we can use them."
Well. 3 years have come and gone. Spot has been broke, just a few falls past, has been taught to jump and been to several horse shows. We are hoping that this summer will see him used as a hack horse (no jumping quite yet) for advanced riders only. We are excited with plans for Spot's future. He is showing an aptitude for jumping, a quiet, willing manner and smooth gaits. We plan on him being with Cedar Lodge for a long, long time. Who knows? Maybe he will be the next Abby. As for the Man with the photo. I never did figure out why he wanted Spot or what possessed him to pursue that trade, but I haven't regretted my decision for one day. I think I got the best of the lot.
Update: Spot has been with us many years now. He showed a few years, but then had a debilitating injury. He fractured the bone in his shoulder. He was 3 legged lame, and we were put in the position of what to do. We decided to hold on to Spot and give him a chance to heal. We liked him loads and we had a 50/50 chance. It took 2 years. And then, sometime in the early spring he started looking sound. By summer he was able to go in advanced walk, trot, canter classes, and eventually we were able to start jumping him. We are careful with Spot. He is used almost exclusively as a cross rail rider horse. Spot returns our care by being very good at his job and taking care of his riders from the beginning of the class to the last.