Our Horses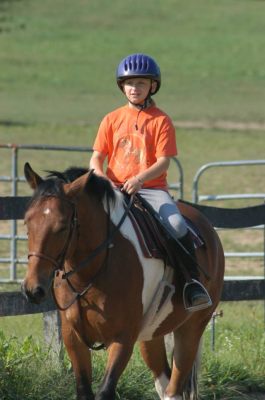 Update:
Stormy made it through the summer. We decided that since his canter is a bit immature, that Stormy should stay in the walk, trot classes. He was a super star. Who knows what is up for him this summer? A canter class, or stay with the walk, trotters. Only time will tell. Either way………next fall I see JUMPS in his future!
A further update:
Stormy may have done well that first summer in the walk/trot classes, but by summer 2005 he had reverted to his bad little pony ways and figured out any trick he could think of to avoid work. Though he did add a few classes and skills, like polo (even though there was some debate on whether he really has "Ball" sense, or whether he was just chasing down the ball to kill it), to his repertoire, it was clear to Chris and I that the fall of 2005 was definitely time for Stormy to move on to a college education. 3 months of rehabilitation later, Stormy had managed to learn to jump 2′ courses and was started on flying lead changes. He managed his first schooling show and ended up Champion in two divisions. With a bit of time, and luck, I think Stormy will make a heck of a Show Team contributor. This summer he is due to go to some additional schooling shows with big boring me in the stirrups. From there, who knows? Graduate School?Stormy and Malik
Further, further update:
Stormy did make a show pony. He ended up being Ashley Butler's show pony for several years, and then went on to take several other riders around as well. He was never good at lead changes (too lazy…why bother) but her didn't care about the jumps and he had beautiful form over 2'0-2'6″. When not showing, Stormy was used in advanced classes until his hocks started to show too much wear and we needed to move him down to less advanced classes. That became a problem. Stormy was the laziest horse I have ever known. For several years, I winced as I watched riding staff Amanda chasing Stormy around trying to make him canter with some poor rider. Stormy hated flat work and he only remotely woke up when he got to jump.
I was at my wit's end as to what to do with him. He was too mean to the other horses to make a walk, trot beginner horse, too lazy for cross rails (and he hated people with rough hands) and too old to do the advanced classes. What to do? The answer came in the form of a random conversation between me and one of the Cedar Lodge vaulting coaches, Jane Egger. Jane was bemoaning the fact that she reallyStormy and Jane wanted to buy a pony for vaulting. "Why not try Stormy?" I asked. Jane really didn't know who Stormy was, but I was quick to remedy that. We whipped out a surcingle and some vaulting kids and on the lunge line he went (a place that he had not been for over 10 years, NEVER needing to be worked down…..). It was clear in one lesson that Stormy was a perfect fit for vaulting. He did not (and never had) cared what kids did on his back, as long as they left his face alone. He had a healthy respect for the new, improved, LONGER lunge whips and he had wonderful gaits. In 2015, Stormy started his new career as a vaulting pony and works enough now in his new job, that he is rarely ridden. He is a hands down favorite with the under 3'0 vaulters and specializes in walk/trot, though there is talk of a canter in his life. I had only to watch him with one of our smaller, but talented vaulters mastering a trot mount by herself (a skill that she would never be able to do on a bigger horse because of her height) to realize that we had made the right decision. It sounds funny to take 15 years to find a horses true profession, but some of us just take longer than others……
Our Horses